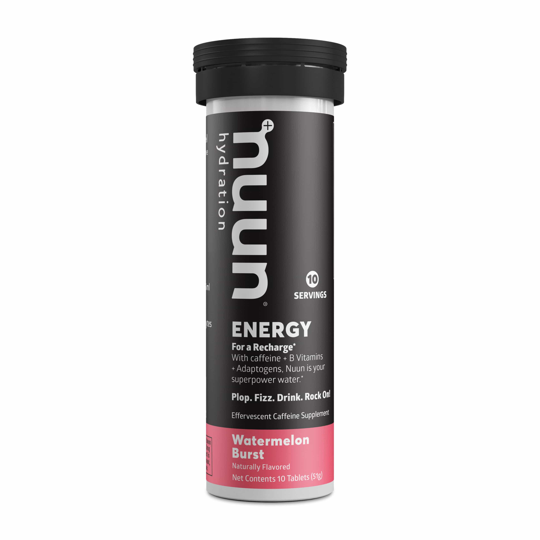 Need a boost? Jumpstart your day with Nuun Energy, a crafted blend designed to deliver a lift that lasts. Packed with invigorating ingredients like organic green tea, ginseng, B vitamins, and electrolytes, it's the perfect sidekick for workouts, workdays, and everything in between. 10 servings per tube, 8 tubes per pack. That's 80 servings tot al! Dissolve in 16 oz of water.
Nutrition Info
SUPPLEMENT FACTS Serv. Size 1 tablet (5.1 g) (makes 16 fl-oz/475 ml prepared), Servings 10, Amount Per Serving: Calories 15, Total Carbohydrate 4 g (1% DV*), Total Sugars 2 g (Incl. 2 g Added Sugars, 4% DV*), Vitamin B6 (as Pyridoxal-5-Phosphate) 2.55 mg (150% DV), Vitamin B12 (as Methylcobalamin) 10 mcg (417% DV), Pantothenic Acid (as Calcium Pantothenate) 7.5 mg (150% DV), Calcium (as Calcium Carbonate) 15 mg (1% DV), Magnesium (as Magnesium Oxide) 15 mg (4% DV), Chloride (as Himalayan Pink Salt) 40 mg (2% DV), Sodium (as Himalayan Pink Salt, Sodium Carbonate) 100 mg (4% DV), Potassium (as Potassium Bicarbonate) 200 mg (4% DV), Botanical Energy Blend:Organic Green Tea Extract [Camellia sinensis (leaf)] (containing 80 mg of caffeine) 82 mg (†), Organic Ginseng Extract [Panax ginseng (root)] 20 mg (†). 
*Percent Daily Values are based on a 2,000 calorie diet. 
 †Daily Value Not Established.